The Wine Label Circle Journal is published annually and is a compilation of articles and research prepared by members of the Circle.
Published since the Circle was formed in 1952, the Journal archives provide a valuable source of information and inspiration for wine label collectors.
A searchable digital version of the back catalogue is available to members through the member section of this website.
Here are some examples covered in recent Journals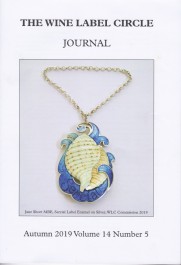 American labels (2020), William Beckford's 19c wine list (2020), Wine Labels with Pierced Borders (2021), Labels, Makers and Marks ( 2015), Architectural Designs from the Mid 19th Century ( 2014), Collecting stories such as a Favourite Label ( 2013), Searching for Labels ( 2011) and Collecting on a Shoe-String Budget ( 2011).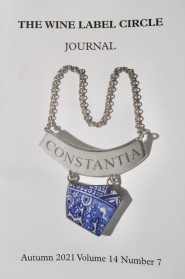 Features on particular silversmiths, their lives, designs and marks such as:
The Designs on early Escutcheons (2014 & 2015); Susanna Barker and her wine labels (2016), 21st Century Women Silversmiths – Jane Short (2019), 18th and 19th Century Women Silversmiths: Malala Jago and her family 1758 – 1971 (2019), Early Makers, their designs and where they Worked ( 2014); Labels from Chester and NW England (2014); Sandylands Drinkwater ( 2013) ; John Adams of Exeter (2011); Robert Garrard I & II: their labels ( 2007); Paul Storr, his life & labels (2010) and William Ritchie of Perth (2011)