Our Journal is published twice a year, in the spring and autumn. Each issue has a wide variety of articles, nearly all written by Circle members.
A searchable Digital version of the back catalogue is available to members.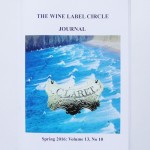 The Spring 2016 Journal includes articles on the life of Susanna Barker and on her wine labels; decorative features on early Newcastle labels; pierced Birmingham labels of the 1820s and 1830s; and more on London escutcheon variations.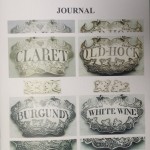 This Journal included articles on the differences in chasing on early Escutcheon labels, on American Wine Labels auctioned in New York in January, and Napoleon's favourite wines.
Some Subjects Covered in Recent Journals
Labels, Makers and Marks (Spring 2015), Architectural Designs from the Mid 19th Century (Autumn 2014),Collecting stories such as a Favourite Label (Autumn 2013), Searching for Labels (Autumn 2011) and Collecting on a Shoe-String Budget (Autumn 2011)
Features on particular silversmiths, their lives, designs and marks such as: The Designs on early Escutcheons (2014 & 2015); Early Makers, their designs and where they Worked (Autumn 2014); Labels from Chester and NW England (Spring 2014); Sandylands Drinkwater (Autumn 2013) ; John Adams of Exeter (Autumn 2011); Robert Garrard I & II: their labels (Spring 2007); Paul Storr, his life & labels (Spring 2010); and William Ritchie of Perth (Autumn 2011)