The Circle has now published three books about labels 'Wine Labels 1730-2003' , 'Sauce Labels' and 'Boudoir Labels 1753 - 1965' .
The three books are available to anyone, not just members.
Boudoir Labels 1753 - 1965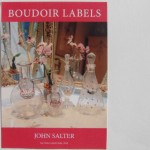 In October 2012 the Circle published Boudoir Labels written by Professor John Salter. Over 200 pages long and lavishly illustrated, the book covers the many potions, alcoholic drinks, perfumes and medicines kept in ladies' boudoirs. In addition there are fascinating explorations of the history of many of these liquids and of their place in social history. The book is now available at a price of £55 UK and £58 overseas - prices include postage.
Like our other two Books you do not have to be a member to buy.
Click on the picture to enlarge
To purchase please follow the instructions below.
Wine Labels 1730 - 2003 A Worldwide History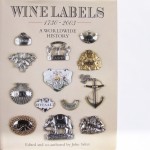 This book covers wine labels primarily of silver but includes many in a wide variety of other materials, with over 130,000 words 1,400 labels illustrated. It reviews the huge variety of shapes and designs, the craftsmen and women who made them, how they were made, the hallmarks and the names on labels. As the book's title states, it encompasses labels from many countries.
The Circle can offer this book for only £40 posted to UK addresses (£58 international except to Canada which is £80).
To purchase please follow the instructions below.
Guide to illustrations in Wine Labels 1730-2003: £9 (£10 international)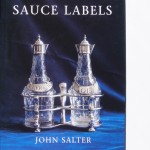 This book deals with labels used to identify the contents of sauce cruets and covers too dining styles and recipes. . It contains 1,400 particulars of labels, 511 sauce titles, 285 photographs of labels, mainly in colour, descriptions of 229 makers, 117 coloured illustrations, 108 recipes or explanations of sauces, and a description of 40 styles into which sauce labels have been classified.
Copies may be purchased for only £17 posted to UK addresses (£20 international).
To purchase please follow the instructions below.
To make payments to the Circle, please email Stuart Wood by clicking on his name here and indicate what you wish to purchase. Then there are then two methods of paying for the goods
1) By transfer to the Circle's bank account: (Bank: National Westminster Bank plc. Sort code: 60-80-06 Account number: 70882738)
2) by mailing a UK cheque, payable to 'The Wine Label Circle', to Stuart
If you do not have a UK bank account, you may pay using the Paypal button on the Membership Page. This button is available for the purchase of any of the above items by anyone without a UK bank account. So enter in 'Quantity' not the number of items you are buying but the total price in £s you are paying, So for an item costing £5 enter 5 as value in the 'Quantity' box, for an item costing £8 enter 8 in the 'Quantity' box; and so on - but please also email Stuart when making payment with your contact details and details of your purchase(s).