The Circle normally holds two meetings each year. The Spring gathering is held in London, with the Autumn Meeting, which includes the AGM, normally alternating between the Provinces and London.
Autumn Meeting & AGM 2017
To be held at Attingham Hall, Shropshire
Date and Place:
Thursday 11 May 2017 at Art Workers' Guild, 6 Queen Square, Bloomsbury London WC1N 3AR
Programme:
1600 Assembly
1630-1730 Presentations
1730-1800 Refreshments
1800-1830 Examination of labels and informal discussion
1830 Room vacated
1900 arrive at Carluccio's Restaurant
The theme of the presentations will be" Below the Stairs: from cask to glass" - anything to do with labels and related objects that are used in the storage, preparation and service of wines and spirits: for example, bin and barrel labels. If you wish to have a label or related object incorporated in the presentation, please send a photograph to the President (contact details below) by 24 April.
Members are welcome to bring along any labels that they wish to show and discuss with other members. Please attach tags with your name to your labels to ensure their return at the end of the meeting. There will also be a 'sales table' for members to trade labels.
As in previous years, the meeting will provide an opportunity for members to bring labels from their own collections to show other members and our Advisory Committee will be on hand to answer queries about individual labels. If you wish to have a label examined by our Advisory Committee, please submit a photograph and details to the President by 24 April. If there be more labels offered than time available, priority will be given to the earlier notifications of intent to bring a label.
The cost of attending will be £10 per member/guest to cover the room hire and refreshments: a complimentary glass of wine or juice to be offered at the meeting. Please email (or mail, if attaching cheque) to WLC Treasurer: please state your name on payment.
WLC Treasurer, 2 Crescent Drive, Petts Wood, Kent BR5 1BD, UK
(email: wlctreasurer@hotmail.co.uk; phone: +44-(0)1689-601979)
NAME (please print):…… ……………………………………………………………..
Contact details: email:………………………………………….phone #.....................................................
GUEST/S NAME…………………………………………………………………………
I will/will not* attend the Spring Meeting and pay £[ ] £10 per attendee.
I will pay by either (please tick choice) :
[ ] direct to our National Westminster Bank account 70882738 sort code 608006;
[ ] using PayPal (see our website for guidance); or
[ ] attached UK cheque
I will/will not* attend the informal dinner at Carluccio's Restaurant following the meeting..
Informal dinner at Carluccio's Brunswick Square
We have booked for an informal dinner after the meeting. The cost of a two-course dinner is up to £25 per person (extra courses and wine excluded). Members attending the meal will be asked to open individual tabs in order to pay for their meal.
Please let the Treasurer know, by 30 April 2017, if you wish to attend any of the evening's events.
We wish to encourage as many members as possible to attend the meeting on 11 May but if you cannot attend and have views or comments on any matter please contact our President, Stephen Chapman (email stephen@steeplefield.org.uk: phone +44-(0)1403-730420.)
Nearest Underground is Russell Square on Piccadilly line.
Autumn Meeting /AGM 14/15th October 2016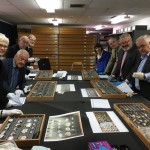 Held at the Museum of London; this photo shows some of our members handling Labels in the reserve collection of 400 items.
Thursday 19 May 2016 at Art Workers' Guild, 6 Queen Square, Bloomsbury WC1N 3AR
A very successful and well attended meeting was held with presentations on Madeira labels and Wines with a number of Members bringing labels to show and discuss.
While these are the two fixed events during the year, individual members also meet informally, often at antique fairs , museums or exhibitions. The Circle is a friendly social group as well as a group interested in the many and varied aspects of wine labels. We do encourage members to come to the Spring or Autumn meetings but some members prefer to keep to themselves and enjoy the Circle solely through the Journal.