The Circle normally holds two meetings each year. The Spring gathering is held in London, with the Autumn Meeting, which includes the AGM, normally alternating between the Provinces and London.
Goldsmiths' Hall, 10th April 2018 at 4.00pm
Autumn Meeting & AGM 2017
On Friday 13th October an informal dinner was held at Drapers Hall, Shrewsbury - the home of the Shropshire Drapers - in its magnificent Meeting Room.
The following Day we visited the National Trust's Attingham Hall, starting in the morning with a private tour after which, we inspected the Wine Label collection in the Steward's Pantry.
Following Lunch at the Hall and the AGM the Curator at Attingham gave us a talk on her work and the setting of the Dining Table
Was held on Thursday 11 May 2017 at the Art Workers' Guild in London with a theme of
" Below the Stairs: from cask to glass" followed by an informal Dinner at a local Restaurant
Autumn Meeting /AGM 14/15th October 2016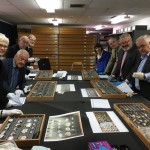 Held at the Museum of London; this photo shows some of our members handling Labels in the reserve collection of 400 items.
While these are the two fixed events during the year, individual members also meet informally, often at antique fairs , museums or exhibitions. The Circle is a friendly social group as well as a group interested in the many and varied aspects of wine labels. We do encourage members to come to the Spring or Autumn meetings but some members prefer to keep to themselves and enjoy the Circle solely through the Journal.